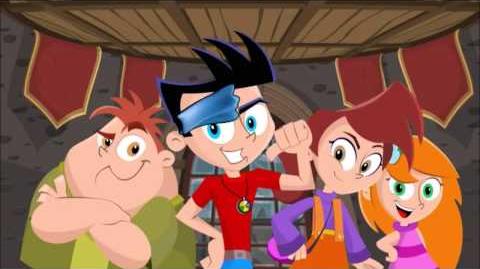 Welcome to the Nutri Ventures The Quest for the 7 Kingdoms Wiki
Edit
This Wiki is about the show Nutri Ventures. The show is on the kid's educational network, Qubo, so kids will be learning about food, too.
The show follows Theo, Lena, Ben, and Nina, four friends that live in a city where food doesn't exist and all citizens are forced to eat Genex-100, a high calorie compound available only via the Grand Corporation. Things have been like this ever since Alex Grand, owner of the Grand Corporation, ordered all alternative food sources destroyed thirty years ago. He did not succeed in fully destroying all other food options, as the nutritionist Nexus helped preserve seven food groups by enlisting seven Nutri- Guardians with the task of hiding and protecting these foods from Alex's wrath. As the children seek out these seven Nutri- Guardians and try new, healthier food options, they must still defend themselves and the foods from Alex and the Grand Corporation, who want them permanently destroyed. Things are made somewhat easier after the children eat the foods and experience various benefits of healthy eating.
Latest activity
Edit
Photos and videos are a great way to add visuals to your wiki. Find videos about your topic by exploring Wikia's Video Library.